>"So, you're now describing yourself as an Author? What sort of books do you write?"


"Fantasy, Horror, Young Adult and Children's books mainly."


"How much have you had published?"


"Fifteen or so short stories published in print anthologies and on websites."


"I meant books. Everyone knows that short stories don't count."


"I have a Novella up on Smashwords and I'm publishing the second one in the series soon."


"What's Smashwords?"


"It's an eBook publishing site. It publishes eBooks in all different formats, so you can reach both Kindle and Nook readers and so on."


"So it's like, self publishing? That doesn't count either. You have to have an agent and a publisher to be a proper Author."


"Really? How much do you know about publishing?"


"People who self publish are just clogging up the market. Agents and proper Publishers like Harper Collins are what distinguish an Author from a Writer. They filter out the rubbish…"


"Really. You don't know much then. What do you think of Katie Price's book?"


"You know what I think about it. I blogged about it yesterday."


"Would you call her an Author? She has an agent and a publisher."


"Don't go there. I get hot under the collar just thinking hearing her name."


"How long have you had your blog?"


"I've had it for three years. I just write about things that have happened to me and what I think about the world. I get a lot of comments."


"Congratulations! You're a Self Publisher and you have readers. I've been publishing myself for the last year or so, on my blog and I just thought it was time to actually publish something longer than eight thousand words."


"Makes you think doesn't it. Anyone who puts writing of any sort up on the net is a Self Publisher; they just don't get paid for it."


"Hmm, I've never thought of it that way before."


"Fun isn't it…"


(This is a fictional conversation by the way…)




The thing is, while it's easy now to publish an eBook by yourself, it's not easy to become successful at it. As one of my friends said:


"Editing, proofreading cover design. All vital steps in the journey even when going to an eBook. Correctly formatting an e-book takes a lot of time and skill, as much, almost, as a print book." – Andrew Brenton.


Those are the bits that tend to be ignored by the people who just want to be able to say "I've published a book".


It doesn't matter how good your content is, if you don't have a cover that will catch the eye, or readable text on the pages (readability is governed by grammar, you know, the stuff that you hated at school?) then you won't sell very many books, no matter how cheap you make them.


That's when you farm out the stuff you can't do to people who can do it. If you're lucky, you'll have a friend who can do your book cover and another who is happy to help you line edit. The formatting can be tricky, so you might have to learn how to do it yourself properly, or you might shell out for someone to do it for you.


The ones who don't do any of that are immediately visible on an eBook sales page. The Book Cover is essential as an attractant here and theirs will be, at worst, badly put together. You might read the blurb and be curious so you read the sample. This is when the grammar and formatting issues rear their ugly heads. It doesn't take much to put a potential reader off.


It was with much trepidation that I ventured onto the Smashwords site to register. I had a good look around, read the recommended books for starting up and decided that it was good a time as any to have a go.


I knew exactly which stories I wanted to publish. The Tower and The Eye stories are from one of my favourite created worlds and I wasn't about to just jump in the deep end and ruin them.


So I started with the formatting. Having read the Smashwords Style Guide already, I worked my way through it again, altering the page formatting and creating a template. I contacted a graphic design friend who was going through a dry patch word-wise and asked her to create my covers. After a brief series of emails, the first one came through and it was magnificent!


Cover Design by Noelle Pierce
See what I mean? So I knuckled down and got going on the editing, before sending the file off to someone else for a second edit. It's incredibly difficult to line edit your own work and I only know of one person who can do it.
Where does that leave me now?


Well I've been checking out the competition on the ePublishing scene (thanks to Kindle for PC) and I've found some really good books that I'd like to share with everyone.Of course, me being me, I've already put a couple of these reviews up already to help the author's spread the word, but that doesn't mean I can't post them again! There are also a couple of books that I haven't reviewed yet, so bear with me…


Passion turns to envy. Love to murder. One way or another, everyone is spoilt.

A sadistic killer is stalking the streets, carving his hatred into the bodies of beautiful, young women.

The murders are stirring up bad memories for Detective Lucas Huson, as he struggles to remain focused – juggling the horrors of today with horrors from the past.

When Chelsea Summerville's best friend goes missing, she's unwillingly dragged into the race to stop the killer. As Lucas and Chelsea find happiness together, Chelsea becomes the hunted rather than the hunter.

Can Lucas shake off his demons and save the woman he loves, or will everything he holds dear be spoilt?


Australian Author, Joanne Ellis has made a difficult slipstream look easy with "Spoilt".


This book is going to have an attraction for both Crime novel readers and Romance Novel readers. The two genres are effortlessly intertwined, making the characters feel real and well rounded in a way that doesn't tend to happen in most crime novels. The story is fast paced and gripping, the humour and romance leavening the fear of a killer who gets ever closer to his target without being found.


I thoroughly enjoyed reading this on Kindle and will be picking up a paperback copy shortly. I am also looking forward to this author's next book "Firestarter".


Get your copy of Spoilt on Amazon, available in Paperback and Kindle:


Spoilt by Joanne Ellis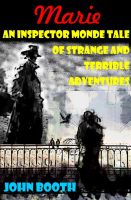 Young healthy men are dying, drowning in the Seine with alarming regularity. The only thing they have in common is that they look like each other. Can so many have given up on life and have chosen to kill themselves? There is the faint whiff of otherness about their deaths and when that happens the authorities of Paris turn to the one man who might solve the crime.
Inspector Monde walks the dark side of Paris where the supernatural can be found. Every police force has an Inspector Monde though they try to deny it. When the blood chills and the hairs on the back of the neck rise they send for him and don't look too closely at what he does. For the Inspector does not particularly believe in the Law but will fight for Justice to his last breath.


This is the first book in the Inspector Monde Series. "Marie" is a macabre tale in the tradition of pulp horror fiction, the chills leavened with John Booth's dry humour.


I love the way the author effortlessly draws you into the story with a few well aimed words and leave you wondering what else the Inspector has dealt with if he shrugs something like this off as normal!


Available now on Smashwords: Marie by John Booth


In a world where superpowers are illegal, the line between the good guys and the bad guys is razor thin.

In the first issue of this high-octane series, Detective Erik Mir finds himself face to face with a very old, and very dangerous enemy by the name of, Mr. Teeth.


Steven Novak is a gargantuanly talented illustrator and graphic designer who is also a comic geek. With the successful children's book "Forts" under his belt and the sequel underway, he turned his attention to comics. The result is the definitely adult and very entertaining "The Bad Guys"


Steven's artwork is clean and very clearly drawn, with his own personal style that reminds me a lot of Jim Davis, yet has a harder edge than Garfield ever did. The story is simple, but enthralling. Having read Issue 1, I cannot wait for Issue 2…


You can find "The Bad Guys" sales links here: The Bad Guys by Steven Novak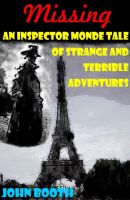 It was disquieting. They were just children after all. Brother and sister. Mama'd gone missing and obviously Inspector Monde would understand … 'at last'. Understand what exactly? Monde thinks he knows but the knowing brings back memories he's long kept buried. If he walks down that road, what will he find at the end?

Inspector Monde lurks on the dark side of Paris where the supernatural can be found. Every police force has an Inspector Monde though they try to deny it. When the blood chills and the hairs on the back of the neck rise they send for him and don't look too closely at what he does. For the Inspector does not particularly believe in the Law but will fight for Justice to his last breath.


The indomitable Inspector Monde cannot be fazed.


In the first story it was a ghost getting her own back, in this one it's the tale of two children who have lost their mother. But as always, with Inspector Monde, nothing is as simple as it seems…


John Booth is fast becoming a writer to watch out for. Having published two YA books, he turns his attention to the adults. The Inspector Monde Series is shaping up nicely and I for one cannot wait to pick up the next episode!


Catch this chilling tale on Smashwords: Missing by John Booth


A dark and disturbing glimpse into the mind of a sociopath and the apparently impossible attempt by a young woman to expose his crimes.

Marcus was special. He'd always known it. Even at the age of six when he'd decided to kill his father. His privileged background should have produced a doctor, an academic, perhaps a diplomat. Instead, he killed people for fun.

Donna O'Prey is the most junior member of a small private security firm. A routine search for a missing teenage girl escalates into something much more serious when a ransom demand is received. Donna becomes convinced that Marcus is responsible for the abduction. Eleven years previously, while still a child, Marcus had been convicted of the brutal murder of two young children, but a Home Office review board has now sanctioned his release.


Donna needs all her battling qualities as she attempts to rescue the missing girl, but how will she cope when her own safety is threatened?


This is an edgy, hard hitting crime thriller with all the hallmarks of a damn good read. The characters are well formed and the story has so many twists and turns that you'd need a sat nav to try and document them.


As with many of this genre, there are the usual stereotypes, but written with a fresh point of view that makes them more interesting than usual. The dialogue is clear and appropriate for each character voice; the description engaging and cinematic in quality. All in all, I would say that this book is well worth buying!


Find it at Amazon – Burn, Baby, Burn by Jake Barton




When you're up against stories of such calibre it does one of two things – You either get so depressed that you can't carry on, or you become determined to be as good as, possibly better than, the competition.


I drop into the second group. I haven't come this far just to give up on my dream of being a published Author and despite the Nay Sayers who think that being self published isn't nearly as good as having an agent and being published traditionally, I am going to carry on along the path I have chosen.


That's the beauty of eBooks and POD you see; it allows far more choice, both for the writer and the reader. And for me, the Reader is the most important group for me to impress, if they decide that they like me, then it's all steam ahead!


Keep an eye out for "The Tower and The Eye: A Beginning". I'll post the appropriate details when I finally, actually have it live for download. But until then, keep reading!