… and I have two new books out for you to read!
The first one is actually the third book in "The Land Far Away" Series – Father Christmas and Quinza the Linzer.
As Christmas comes to Land Far Away, all creatures make ready for the festivities.

One young Linzer is not satisfied by the prospect of gifts – she wants to capture the big man, Father Christmas himself.
In Linzerland the Linzers build snow houses with chimneys to give Father Christmas somewhere to put their presents, but Quinza is determined to capture Father Christmas' undivided attention and get hers first. So she makes sure that her house and chimney are the biggest and brightest in the whole of Linzerland.
Unfortunately, she's gone just a little too far…
* * *
I wrote this story to explain to my kids why capturing Father Christmas and forcing him to stay to dinner would be a bad idea. I never realised that it would inspire Maria K. quite so much! It was the first book that she just had to illustrate and is really the one that set the whole collaboration off. Not to mention a friendship that has developed from it!
Fancy picking up a copy to read to your kids? I have it on the best authority (ie: from the mouths of my children and their friends) that it's worth reading! Zip over to lulu on the link below and grab one. The pictures are clear and colourful, the paper smooth and the text easy to read. The spiral binding was a conscious choice for us – we wanted kids to be able to read the book with it spread out on their lap, without breaking the spine and the spiral binding does that perfectly.
http://www.lulu.com/shop/maria-k-and-kira-morgana/father-christmas-and-quinza-the-linzer/paperback/product-20422545.html
* * *
The second of my new books is for older kids… and adults. In fact it sits squarely in the older  Teenage bracket…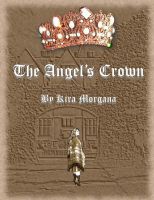 Jenni and her twin sister Morgana have never been apart until divorce separates them. Morgana stays with their mother and Jenni leaves Cardiff with their father, moving to the town of Arkingham across the border in England.

Once there, she makes friends and settles into her new school, determined not to allow the separation change her, but there are still many challenges facing her. Her father gets a job as Head Gardener at The Grange and Jenni meets Aderyn Archington, an eccentric scientist and Lord of Arkingham. 

Aderyn Archington is more than he seems. Racked by illness, his interest in Jenni and her family appears benign. His death brings both rewards and new challenges for Jenni; it quickly becomes apparent that there is more to being Lady of Arkingham than living in a big house.

And life will never be the same again…
This is my first full length novel and is the first book in a new series. "The Secret of Arking Down" came from my 2009 NaNoWriMo entry. That year I wrote the first 50,000 words of the book and almost overnight, a series came flooding out of the world that I created.
"The Angel's Crown" introduces all the major players of the series as well as the world they live in; an alternate universe where it is possible to move between dimensions and visit alternate universes. So far, there are two finished books and  one in progress and I am planning the fourth book now – NaNoWriMo starts Nov 1st and I am writing book 4 for it!
Fun Huh?
Check it out on: